Copy And Paste Symbols
The following symbols are available to copy and paste anywhere. Simply click on it to get it on your clipboard. To copy several of these symbols, hover over each one you want to copy and click the Add To Box button to add it to the Copy Box.
Almost all text symbols in the Unicode standard are available in the above Copy and Paste Symbols. You can quickly copy and paste your preferred symbol character into Facebook, WhatsApp, Snapchat, Instagram, TikTok, Discord, or any other desktop, web, or mobile application.
Copy and Paste Symbols on Windows Character Map
In Windows, the Character Map is a tool for viewing characters in any installed font, checking what keyboard input (or Alt code) is used to type those characters, and copying characters to the clipboard instead of typing them.
This section will show you how to easily copy and paste any Symbol using the Character Map tool.
Let's get started.
Navigate to the Windows Start menu and search for Character Map.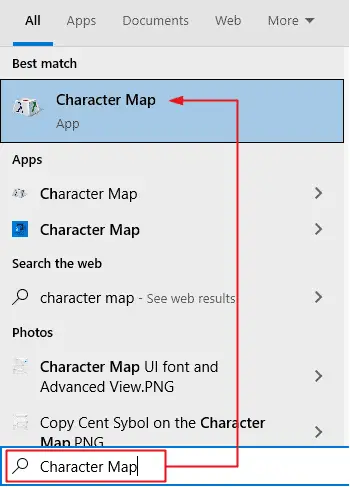 The Character Map will appear in the search result. Click on it to Open.
When it opens, look at the bottom left of the window and click to check the Advance view options. This will expand the window for more advanced stuff.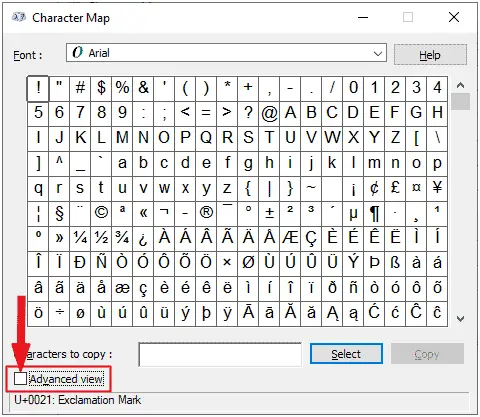 To easily find the Symbol on the Character Map, type the symbol name in the 'search for' box and press enter. The Symbol will appear for you to copy.

Simply double-click on this Symbol to select it in the Characters to copy box. Then, to copy it to your clipboard, click the Copy button.

To paste the copied Symbol, place your cursor where you need it and press Ctrl and V.
And there you have it, the steps you may also use to copy and paste any symbol on Windows.